THE JUST CREAM Project at San Francisco's The Last Day Saloon 2015, playing one of the best versions of "Sitting On Top of the World" from the 'Wheels of Fire' album. (put your headphones on for true Cream experience)
SWLABR She was like a bearded rainbow? Go figure! Another hot night at the Last Day Saloon San Francisco
Original music

Beth Robie on drums was guest drummer for an original blues tune Phil Zamora wrote. It's called Blues Landing
Just Cream at The Club Fox 'STRANGE BREW'

JUST CREAM performing Eric Clapton's 'Tulsa Time' at the
San Mateo County Fair


**********************************************
Just Cream Project
'Joyfest' 2011
Sonoma, California
It was the summer of 2011 and it was the joy of music that caught Steve Kyser's eye when Just Cream came on with special guest Mike Melgoza on drums and Tony Lemieux on guitar.

Live at Cameron's Half Moon Bay CA

Incredible place to play, drink, eat, and be merry!

Second out door concert at Winters Tavern in Pacifica California Summer of 2021 Pandemic period! We continued three more porch concerts despite. Of course masks and 6ft (headphones on for true JC Blues experience)
Just Cream Project Mailing List for Upcoming Shows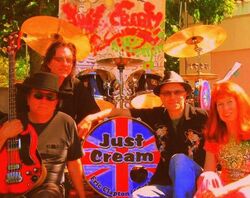 "Sunshine of Your Love" at the Little Fox Theater in Redwood City 2009
The stunning performance by guitarist and singer Rob Wullenjohn brought the house down in the summer of 2009 at the Little Fox theater in Redwood City California.