Memorial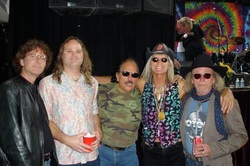 From left to right. Phil Sollar, (Just Cream drummer aka Ginger Baker), Tony Lemeiux (previous 'Eric' guitarist), Phil Zamora (bass and lead singer aka "Jack Bruce"), Kerry Reick, former Just Cream Road Manager (RIP 2010), Dickie Peterson (RIP 2010) Blue Cheer bassist and lead singer (RIP 2010).
We miss Kerry and Dickie! Both passed away in 2010.
The photo taken to the left was at one of Crowbar's incredible gatherings in San Francisco, a year before they both left us. We all got to jam on "Rock Me Baby" with Dickie doing lead vocals and not playing bass. Phil Zamora played bass that day. It was a rare moment!
---
Jack Playing in the 'Green Room'
Jack and his bass guitar doing the "I Feel Free" behind the green door of the green room at
Original Nick's Pub in San Mateo California. Great food and drink with the blues of Cream and Clapton.
What more can you ask for? Oh yes! Come and meet the men and women who "Dance the Night Away" and feel the "Sunshine of Your Love" . http://www.originalnickspizzeria.com/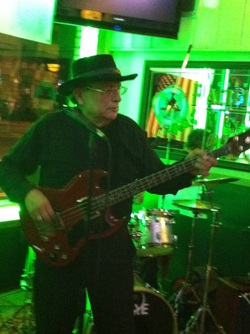 Union Square, San Francisco 2011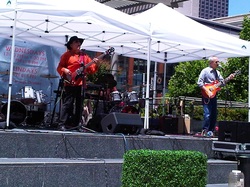 The sound of Cream still rings through out Union Square, San Francisco, CA.

---
The Meeting of Just Cream @ Pressed Rat & Wart Hog's Place
Jack Bruce (Phil Zamora), Ginger Baker (Phil Sollar), and Eric Clapton (Rob Wullenjohn) meet at Pressed Rat and Wart Hog's Place.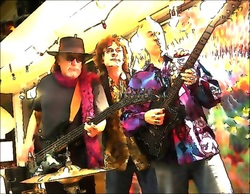 Krowbar's Party 2009 San Francisco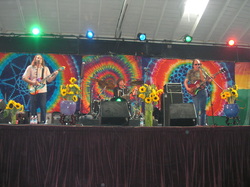 It was a splendid day with lead singer Dickie Peterson from Blue Cheer with many guests including David LaFlame from "It's a Beautiful Day". "Just Cream" jammed on.
---
Phil Zamora meets Cream in Fresno California 1968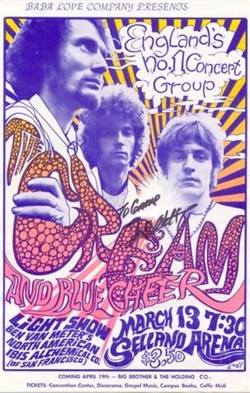 It was a cool night in Fresno California when Phil Zamora (just a young lad of 17) and his buddies decided to spend $3.50 each on Cream ticket to see and hear a few of their favorite recording artists play at the newly constructed Selland Arena. Blue Cheer opened the night with "Summer Time Blues". After ear bleeding sounds never before heard by these youngsters, produced by mountains of amplifiers trucked onto the stage by the Blue Cheer staff, they were prepared for Cream's opening number...."Tales of Brave Ulysses".
---
Don Quixote's International Music Hall, 2011

Near Santa Cruz, this incredible venue brings out the best in people. "Dance the Night Away" and "Do What you Like" with Blind Faith with some hot Eric Clapton tunes sprinkled over the wave of Cream!